Overview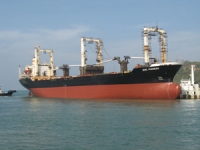 Saigon Maritime (SHC), member of VIETNAM NATIONAL SHIPPING LINES, is a State Owned Enterprise established on 17/12/1998. In March 2002, it became a limited liability company - Saigon Maritime Ltd.
On 15/08/2006, SHC officially listed on Ho Chi Minh Stock Exchange – HOSE. Symbol code: SHC.
On 21/05/2009, SHC transferred to trade on Hanoi Stock Exchange – HNX.
Currently, the capital of SHC is VND 43.095.500.000 with large shareholders such as Sunhouse, Vinaline, … and more than 900 other shareholders.
SHC provides a whole variety of services. Moreover, it is one of the best providers of local container transport service across the sea through the north-south sea route and rivers in Mekong Delta.
SHC provides Container Services, Ship's Agencies, Forwarding services for many local and foreign shipping carriers. SHC has a warehouse system with convenient location in district 4 and 7.